ABOUT US
Our
studio

is made for you to be smiling all the time
15 Professionals,
between specialist dentists, hygienists, assistants and secretariat
THE TEAM
Meet Our Specialists
High professionalism and competence
The Zara dental practice has been operating in Sassari for over 40 years with a team of specialized dentists to offer the patient a modern and cutting-edge service and solve even the most complex dental problems.
We at Studio Dentistico Zara constantly participate in refresher courses and conferences, to increase and deepen our skills, and use new dental techniques and innovative tools, to offer you an increasingly advanced service.
More quality for the patient
Our goal is patient satisfaction, health and smile.
This is why we offer the highest quality in the field of dentistry, with the utmost commitment, without neglecting empathy and the human relationship between dentist and patient, which are among the cornerstones of our way of working.
Dentist expert in implantology, surgery and prosthetics, techniques and technologies of dental aesthetics.
I have followed various highly specialized courses, and still today I keep myself constantly updated, to acquire and consolidate those skills that allow me to offer my patients treatment of the highest order.
The most beautiful result, both humanly and professionally, is certainly seeing our patients fully satisfied and happy.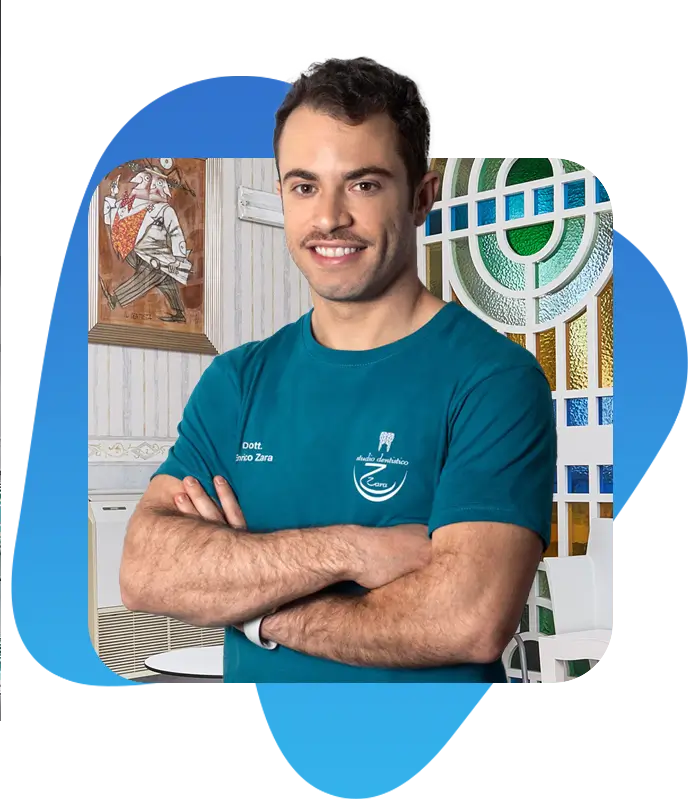 Expert in Pedodontics, Conservation and Aesthetics.
Together with the assistants, we try to create a comfortable and relaxing environment, free of any anxiety or fear, which is important for all patients, to address and treat their dental problems, to allow them to have a healthy and beautiful smile.
We are constantly updated and we make use of cutting-edge techniques, and the use of high-quality materials, as well as the latest generation tools.
Expert in techniques and technologies of dental implantology.
I founded the Zara dental practice in 1982, becoming a point of reference for dentistry not only in Sassari and its province, but throughout Sardinia, providing collaboration and advice to numerous dental practices scattered throughout the area.
Our practice has become a multidisciplinary center with 5 dental chairs and an internal operating room.
In these 40 years I can feel proud of the high level of specialization achieved and recognized in the treatment of complex implant-prosthetic cases, with therapies ranging from "all on four/five" rehabilitation to circular ceramics on top quality implants quality, from the treatment of periodontitis (pyorrhoea) to the extraction of complex wisdom teeth.
And other professional specialists, dentists, hygienists, and chair assistants. 
To take care of your smile.
TESTIMONIALS
Read what our patients think about us
Polite and professional doctors and assistants, empathic with patients, complete studio with cutting-edge equipment for every type of intervention, a family in the true sense of the word.

Great team. Jobs done well. Serene atmosphere and very nice staff. The costs are exactly equal to the quality of the work, so perfect. State-of-the-art tools and professionalism. I will never change.

I have been relying on them for twenty-five years and now my son too. I would never change them for their competence and professionalism. I recommend it to everyone I care about 😍

Positive personal experience: friendly and competent staff, able to put the customer at ease. Effective staff in finding the appropriate solution based on the problem described.

At Studio Zara I found a team of professionals able to welcome, listen and propose the most suitable solutions. The speed and quality of the interventions combined with the courtesy and availability always shown left me happily surprised. State-of-the-art equipment and spacious, welcoming rooms complete the picture, but mostly the people who work there and in whom I will continue to place my total trust.

Very good, attentive and kind, super professional, technologically up to date.